Lance Richlin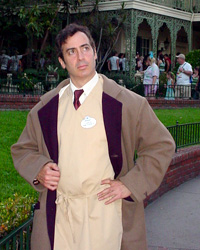 Master of classical drawing, painting and sculpture, renowned lecturer and art educator, and author of the best selling book Drawing Made Easy: Lifelike Heads. Lance currently resides in Los Angeles, California.
Master of Classical Drawing, Painting and Sculpture
Most of Lance's artworks are drawn, painted, or sculpted from life without the use of photography.
Lance Richlin's oil painting technique is an alla prima technique that requires the paint not to dry until completion.
Lance has exhibited his work in many galleries and museums in Laguna Beach, California; San Diego, California; Corpus Christi, Texas; and Seattle, Washington.
Art Educator
Lance Richlin has taught every aspect of classical art - from anatomy and perspective to traditional oil painting techniques.
On a lighter note - in 2007, Lance appeared in a skit that aired on the Jimmy Kimmel Show where Aunt Chippy and Uncle Frank receive drawing lessons in his studio.
He has lectured and taught at several art colleges including:
Art Center College of Design in Pasadena
Otis College of Art and Design in Los Angeles
The Associates in Arts School in Sherman Oaks
California Institute of the Arts in Valencia
Laguna College of Art and Design in Laguna Beach where he taught perspective, anatomy, figure drawing, and figure painting from 1998 to 2007.
Author and Illustrator
Lance Richlin is the author and illustrator of Drawing Made Easy: Discover Your Inner Artist as You Learn to Draw Portraits in Graphite, published by Walter Foster.
Lance wrote an instructional article on creating expert figure drawings for the March 2008 issue of American Artist Magazine.
His work has been featured twice in Juxtapoz Magazine (May/June 2003 and March/April 2001)
You can view several galleries of Lance's amazing artworks at:
Read Lance's full bio (PDF format).